Drawing in RISD faculty exhibition at RISD Museum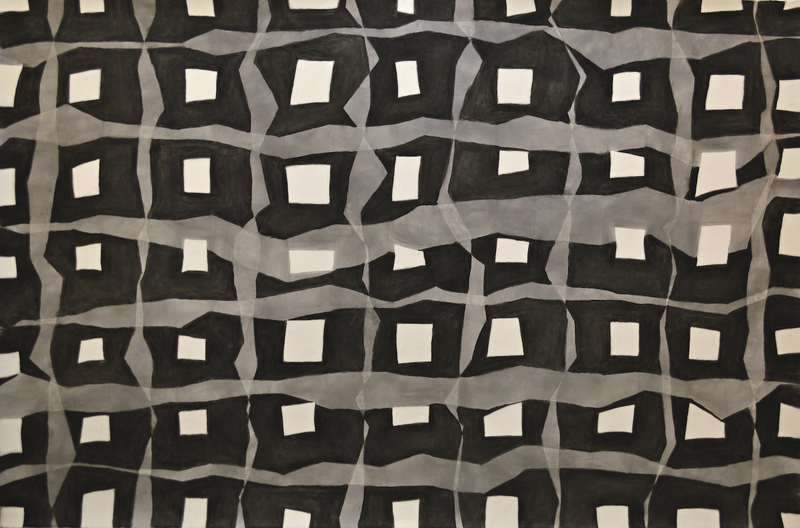 My drawing, "Untitled [Cosmic Field]," is in the faculty exhibition for the Rhode Island School of Design, at the RISD Museum through 25 March 2018. This work was originally made for the "Recurrence" exhibition at Union College in Schenectady, NY -- graphite and charcoal on paper, 54 x 78 inches.
---
Gouaches and photos in "Double Vision: Artists Who Instagram"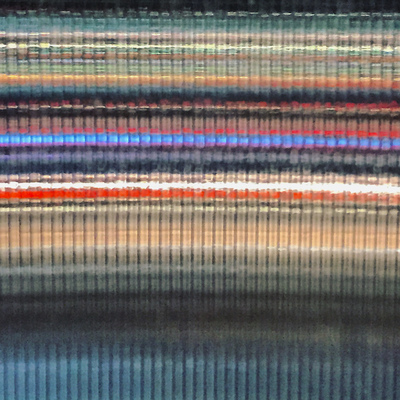 "Double Vision: Artists Who Instagram," a group exhibition organized by Janice Caswell and Erick Johnson, was at LABspace in Hillsdale, NY, September 17 - October 7. I showed two "Image and Ontology" gouaches, on programs from a conference by that name at NYU's Institute of Fine Arts, along with selected Instagram photos printed for exhibition and the show catalogue. The other artists were:

Rosaire Appel,

Janice Caswell,

Erick Johnson,

Mary Lum,

Tom Martinelli,

Liz Nielsen,

Chris Sauter, and Karen Schifano.
---
"Abstraction in the Public Sphere" lecture online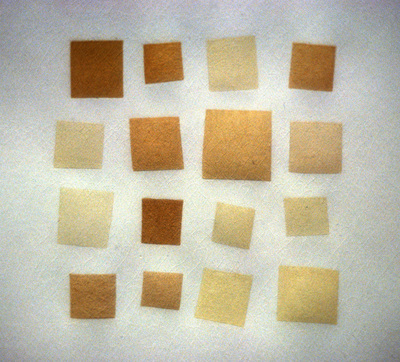 My lecture on "Abstraction in the Public Sphere," at Lyme Academy College of Fine Arts on May 4, 2017, is now video-archived online.
---
Drawings in "Sites of Knowledge" at Jane Lombard Gallery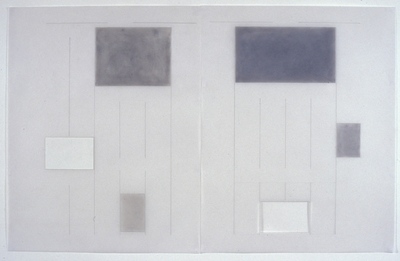 I showed several Agnes Martin Obituary Project drawings in "Sites of Knowledge," the summer group exhibition at Jane Lombard Gallery (

518 West 19th Street, NYC

). Curated by Melissa Bianca Amore and William Stover, of Re-Sited, the other artists were: Richard Artschwager, Henri Chopin, Simone Douglas, Guy Laramée, Jen Mazza, Kristin McIver, Enrico Isamu Ōyama, Michael Rakowitz, Sophie Tottie. The exhibition ran June 8 - July 28, and on the closing night there was an artists' panel moderated by Artforum critic Zachary Sachs, who published a "Critic's Pick" profile of the exhibition: <https://www.artforum.com/picks/id=69327>.
---
"Consideration (As an Antidote to Critique)" published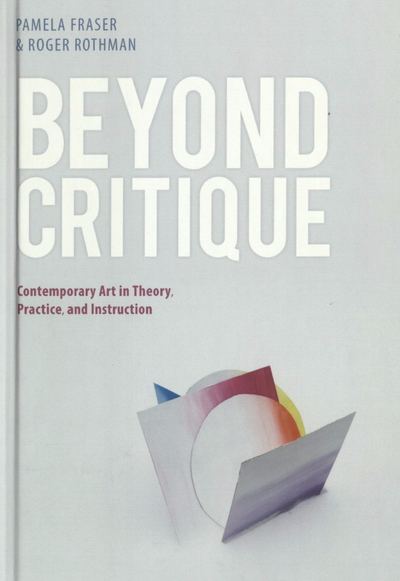 My essay, "Consideration (As an Antidote to Critique)" was published in the anthology, Beyond Critique: Contemporary Art in Theory, Practice, and Instruction (Bloomsbury Academic, 2017). I sketch out an alternative paradigm for engaging with artworks, based on curiosity rather than imperial mastery.
---
"Broken Letters (After Agnes)" on exhibition December 2016 - February 2017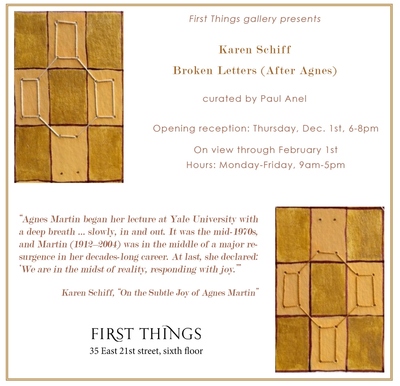 A selection from over ten years of projects in which the aesthetic qualities relate to the artwork of Agnes Martin, whose retrospective ended on January 11, 2017 at the Guggenheim Museum in New York. The exhibition includes new and old work that has never been exhibited, as well as examples from the Laid Lines series and a solo exhibition of collage-paintings made of cut-up hospital gowns. All of the artwork indexes writing and textuality as much as it refers to Martin.
---
"Holy Talk!" at Chesterfield Gallery (LES, NYC), 11/19-12/11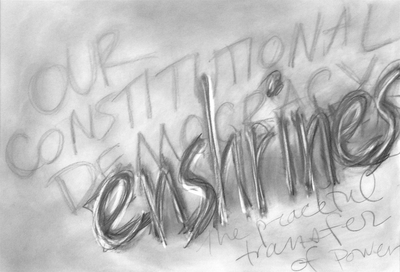 Holy Talk!
performance, participatory drawing installation, and conversations to research everyday "religious" language
Gallery visitors wrote phrases of "holy talk" (OMG!) on the walls to create a "visible sound-cloud" drawing, and to contribute to an ongoing inquiry about this linguistic atmosphere. Further info about events -- and opportunities for ongoing online participation -- at holytalk.tumblr.com.
Chesterfield Gallery, 109 Norfolk Street, NYC

---
"Go Figure: Recent Abstractions" in Gowanus, October 15-16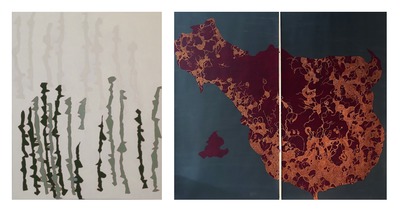 Karen Schiff & Kit Warren held a two-person pop-up show during Gowanus Open Studios 2016, noon-5:00 p.m. on Saturday and Sunday 10/15-16. Drawings and paintings from my Manuscripts series
highlight the abstract quality of language by removing the letters from my own lines of handwritten text, and focusing on the shapes (see painting on left, 28" x 22").
Also exhibiting at Gowanus Lofts and Galleries were many other recently displaced artists from the neighborhood.
---
Review of "Economy Corner" in Art in America

My review of Maryam Jafri's "Economy Corner" is published in the summer issue of Art in America. This exhibition, at P! on the Lower East Side, showcased a collection of 1970s "generic" American groceries and dry goods. Photographs and vitrines with the actual goods (or copies) become portraits in black and white...but none is as generic as it might seem at first glance.

---
Agnes Martin Obituary Project drawing at Unconfirmed Makeshift Museum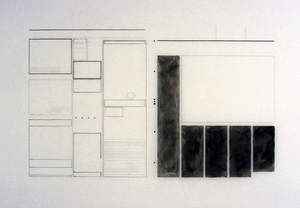 This drawing – "Agnes Martin, Times of London, 21 December 2004, opening, I" – showed in the Fireplace Gallery of the Unconfirmed Makeshift Museum, Irvine, California; May 28 - July 9, 2016. The drawing traces Agnes Martin's obituary from London, where the retrospective began (Tate Modern), as well as the lines of the advertisements that appeared opposite that article.
---
Review of "Tower of Babel" exhibition for Hyperallergic Weekend

"Peace Beyond Words," a review of "Tower of Babel," an international group exhibition recently at Schema Projects (and traveling to galleries in Italy and Israel), is my debut article for Hyperallergic Weekend (published May 14, 2016).
---
"Untitled (Stone Painting)" with Elisabeth Frieberg, installed on Coenties Slip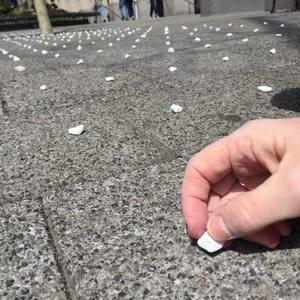 Artist Elisabeth Frieberg and I installed 1512 pebbles of Bianco Carrara marble on the lower block of Coenties Slip (where Agnes Martin lived in the 1960s), on 11 April 2016. Images of our painting-performances (mostly by photographer Jason Mandella) are linked to the photo/headline above and also on Facebook.

---
"God Talk" at "Words and [ ]" performance art festival/conference
I performed some "God Talk" and held a discussion session about it, at the School of Making Thinking's "Words & [ ] — a Durational Conference of Art & Thought" (May 6-8, 2016, The Darling Foundry, Montreal). This project explores everyday, secular exclamations that come from religious terms. As I welcomed the attendees, I interrupted my introductory comments with an improvisational performance of the repeated phrase, "Oh my God!"...then we brainstormed about how and why religious language gets used in daily, secular conversation.
---
"Artworks, Writing, and (Marriage) Proposals" at annual SAR conference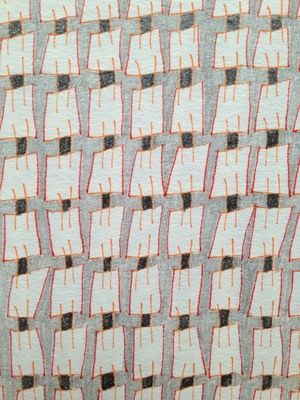 At the 2016 conference for the Society for Artistic Research, in The Hague, Netherlands (April 28-29), I presented "Artworks, Writing, and (Marriage) Proposals" as part of Alva Noë's workshop on "Art, Philosophy, Writing and Speech." The conference theme was "Writing As Practice / Practice As Writing." An abstract of my presentation is below; the image above -- a detail of a "#" drawing -- was printed in the conference program.

"Some artworks make argumentative claims – 'propositions' – about specific ideas. Often, however, a work of art is a non-propositional form of 'writing' which still has a thesis: the artwork proposes (and purposes) to be worth looking at. In offering itself for the viewer's 'engagement,' the artwork makes a single proposition/proposal: 'Will you look at me?' This structured, formulaic question resembles a marriage proposal, where a 'Yes' response can indicate a commitment to a long phase of unpredictable and sometimes wild experiences. I explore the value and implications of this framework for writing about works of art, especially in non-cognitive and animate dimensions."
---
Wallscrawler blog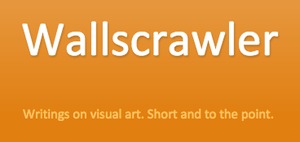 On May 1, 2015, artist colleague Jeff Frederick and I launched Wallscrawler, a blog of pithy writings on visual art. We post occasionally – as compulsion moves us to write – without ads, 500 words or less. My first post was "Muscular Atmospheres," a proposal about alternatives to "zombie formalism" (on Rebecca Salter's "First Light" exhibition at Howard Scott Gallery); my latest post is "Fresh from the East," on Arlan Huang's paintings at Andre Zarré Gallery in Chelsea.