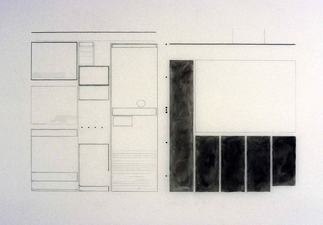 "Imprinting Agnes Martin" portfolio online at Art Journal (12/19/14)
On December 19, 2014, the Art Journal website posted my portfolio, "Imprinting Agnes Martin," at http://artjournal.collegeart.org/?p=5557. The portfolio includes images from my Agnes Martin Obituary Project, plus a typographic composition I created as a catalogue entry about an Agnes Martin drawing, and an essay that chronicles my history of projects about this artist.
---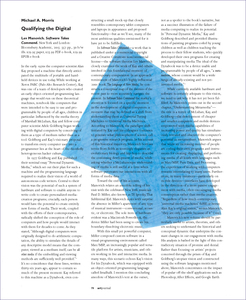 Counter to Type (2014)
"Counter to Type" artist's project, for the Spring 2014 issue of
Art Journal
(a quarterly of the College Art Association), including a video about my thought process and material techniques (posted at
http://artjournal.collegeart.org/?p=4572
but it's for members only; you can also see it
here
). My drawings respond to the shapes of individual letters, the spacing between words, and the punctuation at the ends of paragraphs. They appear on the cover, the table of contents, on the pages of an essay I wrote on visual-verbal topics ("Connecting the Dots / Hijacking Typography"), and in the Book Reviews section. I also adjusted the typography in my essay. A link to the essay appears in the "Writings" section of the website, or go directly to:
http://www.tandfonline.com/doi/full/10.1080/00043249.2014.891911#.Vfq8o2TBzRY
.
---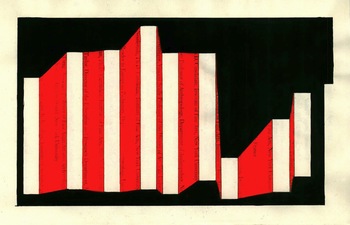 Image and Ontology -- painted texts (2013-)
Paintings on paper, using the list of participants on the back page of the program from a symposium on Image and Ontology, at New York University's Institute of Fine Arts (April 29, 2012). Each piece is 5.5 x 8.5 inches.
---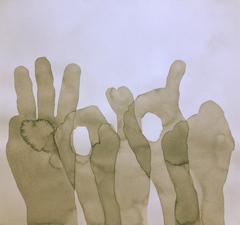 Body Language ("Buzz Buzz Buzz," 2013)
A trio of drawings for the "Beasts & Bodies" exhibition at Schema Projects in Bushwick, Brooklyn, made by tracing my hand as it made the signs for the letters "W-O-R-D-S."
---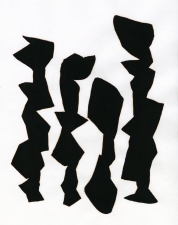 Manuscripts (2012-)
I write about writing, then trace the shapes of my handwriting and efface my words (by blotting them out and/or erasing them). Language reverts to imagery, or refers to other forms and figures.
---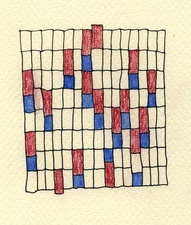 Scripts (2011)
Textual gestures, each 7 x 5 inches, with a palette derived from medieval manuscripts.
---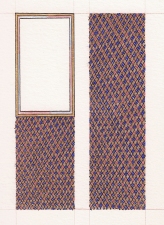 Belles Heures text pages (2010)
After reproducing the page layout of the Belles Heures folio named in the title, I empty out the image area and fill the text area with the pattern that formerly filled the background of the image.
---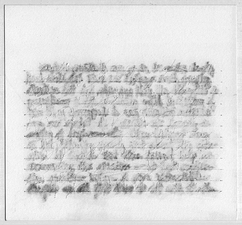 Unwritten (2008)
Drawings in which I erased and scratched out my handwriting. (Selected for exhibition in a Winter Salon at the Björn Ressle Gallery, 2010.)
---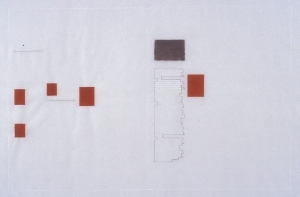 Agnes Martin Obituary Project (2005-)
Drawings patterned on the actual texts and images of obituaries about Agnes Martin, which I gathered from newspapers and magazines from around the world after her death.